Autumn International Fair in Plovdiv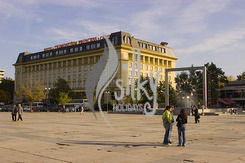 The Autumn International Fair this year will be held from 27 Spetember - 03 October 2009. It is the most representative Bulgarian forum of consumer goods and technologies addressing entrepreneurs, producers and traders.

We have already prepared accommodation offers for most of the hotels in Plovdiv for the period. You can choose from the list of hotels below and we can provide you with complete travel arrangements for tour trip to Plovdiv.